STORM Program Receives NSF Research Experiences for Undergraduates Site Award
July 20, 2023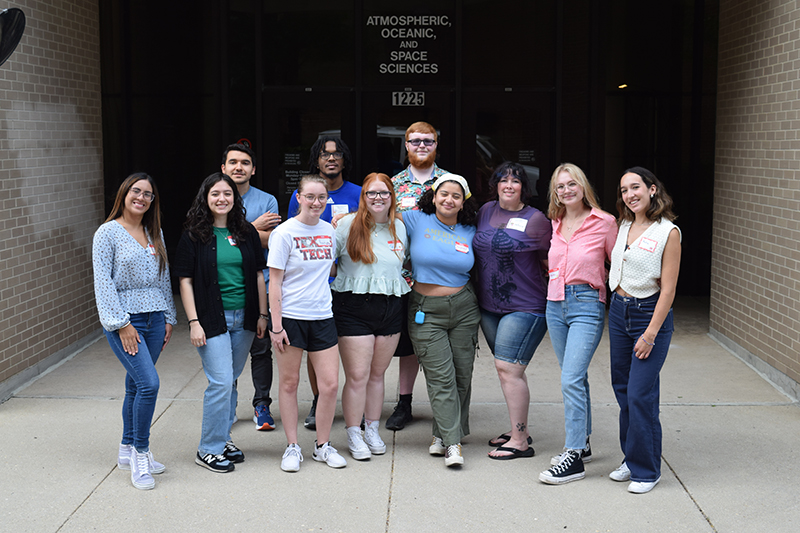 2023 STORM students
The University of Wisconsin–Madison Department of Atmospheric and Oceanic Sciences (AOS) is thrilled to receive the Research Experiences for Undergraduates (REU) site award from the National Science Foundation. The award will support the "Student Training in Oceanography, Remote Sensing, and Meteorology (STORM)" program, helping to shape the next generation of leaders in climate, weather, and water research.
STORM, led by AOS Assistant Professor Hannah Zanowski with support from AOS Department Chair Ankur Desari, will recruit and fund ten undergraduate students a year to conduct summer research in AOS and affiliate centers, the Nelson Institute Center for Climatic Research (CCR), the Space Science and Engineering Center (SSEC), and the Cooperative Institute for Meteorological Satellite Studies (CIMSS). The $400,000 REU award supports activity for three summers, including this current one.
Over a ten-week period, students gain research experience, attend professional development workshops and mentorship programs, and participate in activities that emphasize growth and belonging. STORM strongly focuses on the importance of diversity, equity, and inclusion and encourages students from historically excluded groups to apply to the program
For more information, visit the STORM website. Additional support is always welcome; contact Hannah Zanowski ( zanowski@wisc.edu) to schedule a discussion. And stay tuned for a longer article about the program in our fall 2023 newsletter.