2021 AMS Alumni Reception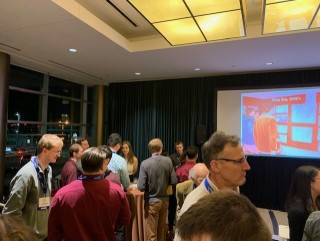 The 2021 AMS UW-AOS Alumni reception will take place virtually from 7:00-9:00 PM CST on Wednesday, January 13.
Join us to hear what's going on in the Department, meet up with old friends and meet new friends!
Please register here so we have some idea of how many people are attending.
The event will be held in zoom. You can connect using this link - https://go.wisc.edu/60srzx

In order to participate in the breakout sessions, you must have Zoom version 5.3.0 or higher. And you must be using the Zoom desktop client or mobile app (i.e. you must have the application downloaded). If you are using the web version of zoom, you can participate in the breakout rooms, but you need to ask a host to put you in the rooms - you cannot select which room to join yourself like you can in the desktop or mobile client.
Help for participating in Zoom Breakout rooms


To check your version in Windows:

Start the Zoom app.
Click your profile icon in the upper right corner of the screen. This is just above the Settings Gear icon. You should get a pull-down menu.
Near the bottom is "Check for Updates" - click this.
If you are up to date, it will say so and what version you are running.

To check your version on macOS:

Start the Zoom app
Click on zoom.us in the main menu bar at the top left of the screen, this will bring down a drop-down menu.
Click "Check for Updates"
If you are up to date, it will say so and what version you are running, otherwise it will prompt you with updates

Here is a list of those who have already registered.

Chelsea Dahmen
Ankur Desai
Brian D Schmidt
Kris Craven
James Hughes
Paige Marten
Gail Good
Rich Selin
Charley Knoderer
Manda Adams
Gijs de Boer
Jordan Gerth
George Frederick
Alan Robock
Brian Miretzky
Kaitlyn Krzyzaniak
Christi Balas Levenson
Charley Knoderer
Jennifer Stroozas (Zeltwanger)
Ross Dixon
Britta Gjermo Morrison
Eric Loken
Kaitlyn Heinlein
Pete Pokrandt
Zachary Handlos
Wayne Feltz
Andrew Quigley
Leigh Orf
Douglas Schumacher
Wei Han
Jim Foerster
Eric Schueffner
Tom Whittaker
Mark Moede
Pam Knox
Ari Sarsalari
Brad Miller
Tim Schmit
Lisa Dehner
Steve Dehner
Melissa Tuttle Carr
Chris Schmidt
Zachary Hansen and Harmony Liu
Dapne (Zaras) LaDue
Ed Hopkins
Chris and Karen Smallcomb
Andre Perkins
Xuanji Wang
Brian Kabat
Matthew Lazzara
Melissa Ficek
Susan Elston
Steve Ackerman
Stephen Dehner
Bette Otto-Bliesner
Maria Madsen
Skylar Williams
Robin Tanamachi
Dave Mikolajczyk
Robert Holmes
Elizabeth Schenk
Maren Stoflet
Bob Wacker
Brad Pierce
Richard Larsen
Timothy Spangler
Ed Shimon
Brian Miretzky
Michael Staudenmaier
Bart Adrian
Mitch Ziesemer
Ralph Petersen
Nicholas Biermann
Louis Uccellini
Stephen Ogden
Michael Pecnick
Yinghui Liu
Russell Hovanec
Bill Smith Sr.
Terry Rahman
Takenari Kinoshita
Tom Skilling
Sophie Hoffman
Eric Rappin
Archana Shrestha
Angela Rowe
George Weidner
Agnes Lim
Bill Hurlin